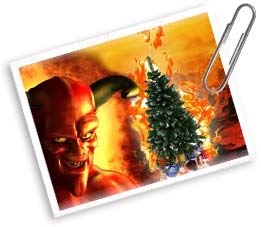 It's that time of year again: there's a chill in the air, malls are playing the same music over and over, and the whining about the alleged attempts to expunge Christmas has begun.
There are many symbols of the season, but the Christmas tree is the most iconic. Most skeptics know that the tradition of taking in a tree for the winter pre-dates Christianity's arrival in Europe by many years, but that is not enough to dissuade those complainers who have been usurping pagan traditions since year one. For them we must take a more forward approach and confront them with their own words—the Bible itself.
When next you hear the inevitable grumbling about it being a Christmas tree, dammit, not a %$&#ing holiday tree, whip out this little biblical admonition:
Jeremiah 10:2-4 (King James Version):
2 Thus saith the LORD, Learn not the way of the heathen, and be not dismayed at the signs of heaven; for the heathen are dismayed at them.
3 For the customs of the people are vain: for one cutteth a tree out of the forest, the work of the hands of the workman, with the axe.
4 They deck it with silver and with gold; they fasten it with nails and with hammers, that it move not.
Hmm, seems as if there's a wee bit of sinning going on in Christendom, because I'm sure that those hordes at the tree lots every year aren't all worshipping Mother Earth.
My family? Yes, this happy band of atheists gets a tree. It's traditional, a part of our culture. Like the Ikea commercial says, it's a six-foot-tall, pine-scented air freshener!
Merry x-mas!