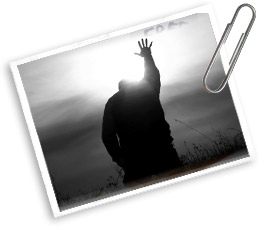 I come from pretty strong religious roots. One of the things that was impressed upon me as a kid was that if I were ever faced with a difficult situation that was out of my control, I should pray. This was a way to keep me hopeful in times of strife, or in times of anxiety. It gave me a lot of comfort. However, during my self re-education and de-conversion, I've had to abandon these ideas in order to live my life based on a model of reality that made sense to me. I came out as an atheist about two years ago.
I used to struggle with the seeming hopelessness of my new-found reality. It's really tough coming to terms with the fact that there isn't a magic man in the sky looking after my ultimate well being, that sometimes things are completely out of my control, and that no matter how hard I wish for a desirable outcome my pleading falls fallow in the empty void where I was once convinced I had eternal property and lots of friends.
While speaking with my sister – who is still an avid churchgoer – about my new-found philosophy, she asked me, "If there is nothing after death, and no grand designer is looking out for us, what keeps you going? What gives you the hope to continue?" At the time I didn't have a quick retort that could sum it all up. It bugged me for a long time. What DOES keep me going?
For those of you who know me, I'm full of joy, full of life. I'm not the kind of person to back down from a challenge or whine about injustice as long as there is something I can do to help. But in paragraph two, my philosophy sounds a little Nihilistic — kind of dark. Where does all my light-hearted living come from then?
I finally realized that for most of my life I was sold a bill of goods that never actually existed. If I was able to live this long without it, what really changed now that I rejected it? I'm still the same guy and I have the same interests. I just don't have the safety net of "God doesn't give you anything you can't handle." The ironic part is, I never really did. So, what gives me hope when things are crumbling around me? The answer is simple, and it's the same as when I was a christian.
Action.
The thing that made me feel better when I prayed was that it was something very easy to do. I was told, "If you can't do anything, you can at least pray." But the comforting mechanism of prayer is what makes it insidious in nature as well. It allows you to feel good about yourself without the burden of actually having to do anything. Effectively removing you from the world around you, and allowing you to take credit for every positive outcome, regardless of the amount of work you put into your wish…er, I mean prayer.
Since I've started my journey from born-again-christian to atheist, my self worth, social life and overall interest in living each day to its fullest has just kept growing. Not relying on prayer to satiate my need to affect positive change has lead me to come up with some pretty creative ways to reach out and make this world the place I want to live in. You can't have hope without action. I hope my deeds will be remembered, and will have lasting positive effects in the lives of my friends, family and fellow humans.
I'm still tempted to pray when times get a little tough, but I resist my programming and instead put on my thinking cap to see if there really is nothing I can do. More often than not, I surprise myself and unlock a new area of understanding in the complexity of the world. What can be more exiting and hopeful than that?