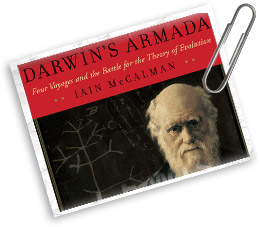 Those of us who believe we are familiar with Charles Darwin often think of the quiet man who went about his work with little fanfare; a man who was so gracious that when Alfred Wallace sent him a manuscript that seemed to anticipate Darwin's own evolutionary theory, he arranged a joint reading before the Linnean Society; a man who was so retiring that he relied on Thomas Huxley to be his bulldog in debates. Darwin's Armada will certainly shake those beliefs free from your mind.
The book follows the four main protagonists of the evolution battles of the late 1800s. First was Darwin, a man born to a fairly good social station; followed by Joseph Hooker, not quite so well-off; Huxley, of even lesser family background; and finally Wallace, who had the least impressive pedigree. That was also the order in which their explorations and work was performed, with Wallace even missing out on the early action due to still being in Southeast Asia. Bound together by their experience with the seas, the term "armada" seems a fitting description of this band; as the author explains, this background was important in developing camaraderie and a sense of purpose.
The book begins with Darwin's funeral and shows the shrewdness and political savvy of Huxley to great effect. While Darwin and his family had made it known that their preference was for a quiet, simple service in the church in his village of Downe, Huxley seized the opportunity to make a spectacle of the event. He reasoned that Darwin deserved to be laid to rest with the greats of British science, and nothing less than Westminster Abbey (also the resting place of Sir Isaac Newton) would do. His roguishness and salesmanship are plain in the way he manoeuvred the scientific establishment and lightly twisted the family's arm until they acquiesced. While some might be put off by his dealings in the matter, I found it made him more of a loveable imp, someone who knew and appreciated Darwin's importance more than any other.
Moving into the main text, we find Darwin is initially shown as we know him already, but with enough significant insight into the voyages that even though entire books have been written on it, the information presented here is still enlightening.
The major new ground for many readers will be the next section, devoted to a man that seems to have been forgotten in many discussions ó Joseph Hooker. Here he is presented as the equal of any of his generation, and just as crucial to the upcoming battles as the rest of the foursome.
Huxley is shown to be a product of his upbringing and early experience, a man who was bitterly hardened against many of the social ideas and institutions of his day, the most rebellious of the group. And Wallace is shown to be a figure who underwent more suffering for his work than all the rest, and who very nearly lost his life in pursuit of knowledge.
The revelations about Darwin come as the author brings these men together and documents the way they worked not only to present their ideas, but also to overthrow some of the scientific establishment. While not quite not as combative as Huxley and Hooker, many readers will be a little shocked (but probably also immensely gratified) to find that Darwin was just as privy to the machinations and struggles as they, and he acted as the admiral of the armada, organising strategy and tactics that were used to great effect. He took great glee in skewering their chief nemesis, Sir Richard Owen. The pre-eminent naturalist of his day, Owen is exposed here as a rather petty and spiteful member of the old school who resisted attempts to undermine divine creation with an evangelical fervour. The four men were also not without their differences of opinion about not only evolution, but about how the fight should be waged, and these are detailed as well, including how they were resolved amicably.
There are some small errors in the publication (for instance, alligators are not found in the Amazon), but Mr. McCalman is a Humanities professor, not a naturalist, so I am willing to overlook such things in what is otherwise a rollicking good read. The insights into the professional and private lives of each member of the armada seems to be so much more than the simple overview that brief biographies would normally supply, and there is much information packed into a small space. When large blocks of text are quoted, this is done in the normal style as a separate paragraph, but shorter quotes are so seamlessly woven into the narratives that it is as if Mr. McCalman lived their lives himself. His ability to let us live their lives through him is what makes this book so enjoyable. Heartily recommended!